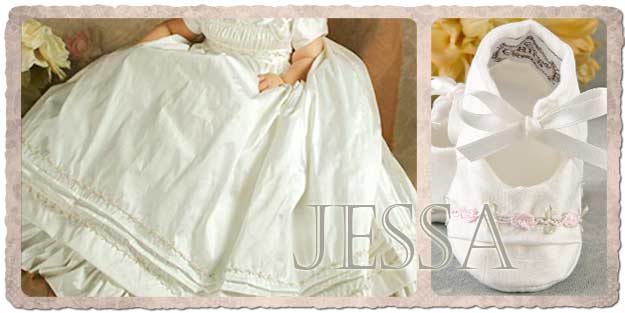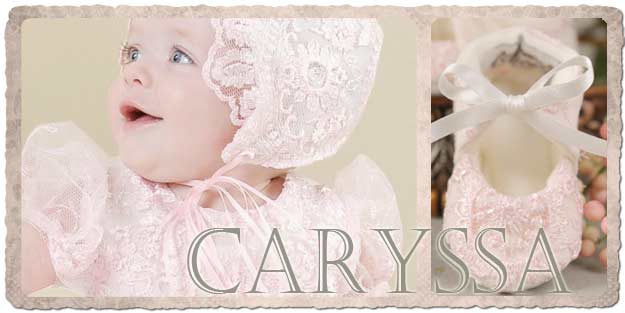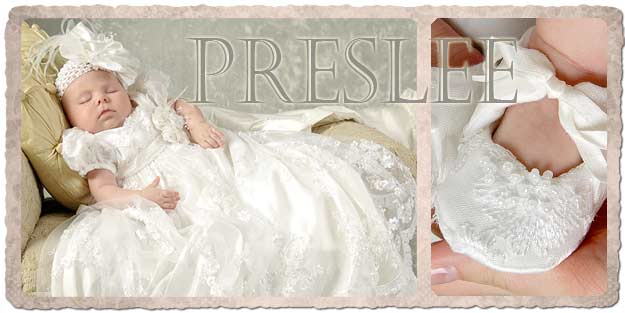 New at One Small Child: dainty christening slippers handcrafted to match our christening gowns…stay tuned for more styles in the works!
Pretty Valeria's mother sends her greetings from Germany!
"I was searching for a long time for a perfect christening gown for my newborn daughter. I found it on your website. All your gowns are magnificent. We chose the Candice. We also ordered the sweet little shoes and tights. Our daughter looked so pretty in it on the day of her baptism. I would also like to thank you for the great correspondence. I was so happy that I found you. Thank you so much."
Note: our Candice has been discontinued.  Please see our Tess Dress picture above.  It is the same style just with a different lace trim.
I have a confession to make. My darling boy was without shoes on his blessing day, because in the hustle and bustle of getting everything gathered and ready and caring for my newborn…I forgot to get some little white shoes! And I, of all people, really have no excuse for that! Good thing he has cute toes…
Oh, wait! No! You should not do as I do! You are much more on top of things, I am certain. It is for you that we've gathered an extensive collection of christening shoes in a broad range of sizes (from newborn to toddlers), styles, and materials.
Depending on your sizing needs, you can select shoes made from the same fabric as your christening outfit, or shoes in a shade to match your ivory gown. We offer leather styles, hand-crocheted booties, mary-janes, oxfords, and ballet slippers.
Here's something else to consider: white shoes are available year-round at One Small Child–no worries about being out-of-season. So there's no excuse! Don't be like me: remember to get the shoes when you purchase your christening outfit, and we'll all breathe a bit easier. 😉