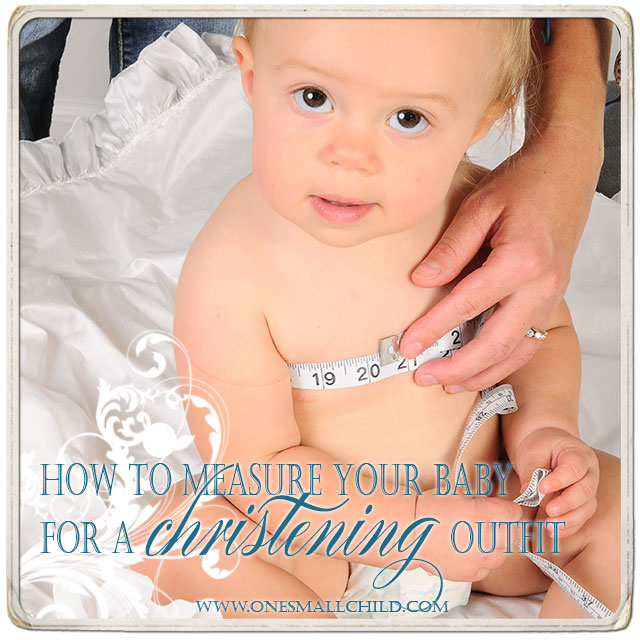 One of the most common questions we get is, "What size should I order for my baby?" It's normal to feel uncertain when trying to gauge exactly what size to select when you don't have the actual gown or outfit in your hands. Fortunately, we've been doing this a long time, and we have a lot of experience in helping you make your decision.
Our christening gowns and outfits are sized in a traditional infant size range: Newborn, 3 month, 6 month, 9 month, 12 month, 18 month, and 24 month. These size names can be misleading: it makes sense to think, "If my baby is 6 months old, he's going to wear a size 6 month outfit." However, every baby is unique. You may have a thin, petite 9 month-old who perfectly fits a size 6 month gown, or a chubby little cherub who's rocking size 12 month at the ripe old age of 6 months.
For this reason we always encourage our clients to measure their babies and refer to the size charts listed on the ordering page for each of our christening styles.
Here's what you'll need to gather to measure your baby:
-the baby (you want to be sure he/she is unclothed or close to it…measuring over a snug-fitting undershirt is fine; over a heavy top is not)
-a blanket or other comfortable surface on which to work (be sure baby won't roll off an elevated surface)
-a soft measuring tape (if you don't have a flexible tape, you can use a piece of string, and compare it to a ruler or construction measuring tape)
For both christening gowns and outfits, you'll need a chest measurement. Wrap the tape just below baby's underarms, and pull it snug (not too tight). Make sure the measurement is as accurate as possible.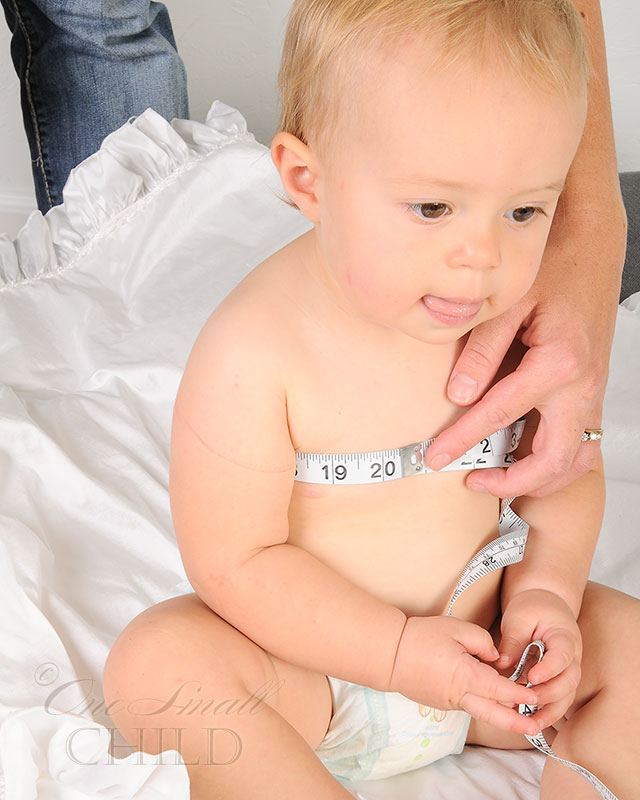 For christening rompers, you'll need both the chest measurement and the torso measurement demonstrated below. The torso measurement is the most important metric to guarantee a correct fit. Place the end of the tape at the point where his neck meets his shoulder, and measure down to the bottom of his diaper.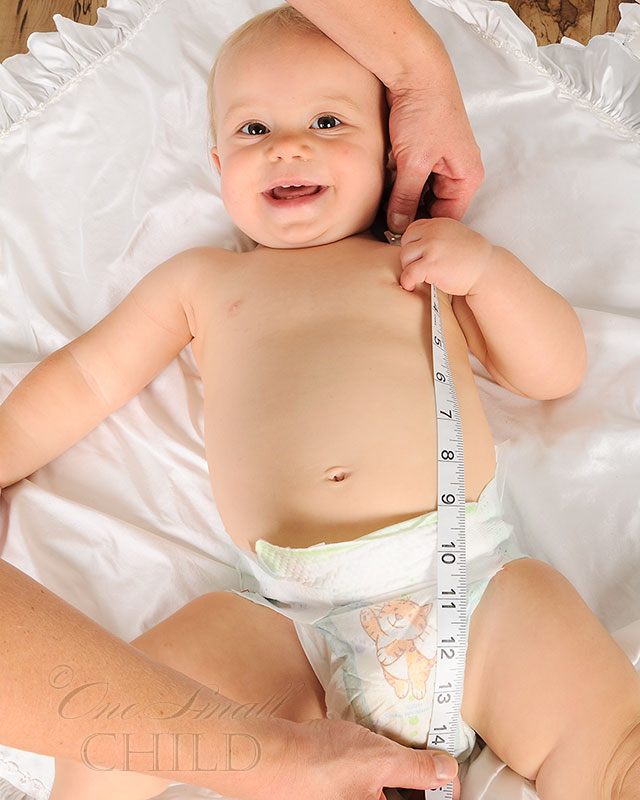 It's a simple process, but can get complicated pretty quick with a squirmy child…it's okay if you need to take the measurement a couple times to verify accuracy.

Once you've got your numbers, check them against the size chart for the particular style(s) you're interested in. All size charts are found on a tab in the lower left-hand corner of the product ordering page. Many of our size charts list a weight range as well as the measurements–this is for reference only, if in doubt, go with the measurements.
Once you've tackled this job, you're well on your way to acquiring the perfect outfit for Baby's special day!