So, it's a busy life, yada, yada, yada. I try to keep track of it all in my handy-dandy brain, I mean, notebook. My notebook contains To-Do lists, phone numbers, shopping lists, project ideas, inspirational thoughts, and random bits of information I must not forget.
I've tried a lot of different notebooks over the past few years, and the perfect size/style for me is a 5 x 7 spiral-bound book. Always on the lookout for cute, inexpensive options, I found this monogrammed version in a dollar bin at a local craft store, and thought I'd give it a try, despite the lack of a spiral binding. It lasted approximately two weeks before pages began falling out. Boo.
I only paid a dollar for this notebook, but I have this thing about keeping my thoughts and lists together, and didn't want to give up on my little book without trying to make it work. I started thinking about ways to bring it back to life. "Hmmm", I thought, "I could see if I could have it bound at the local library or print shop".  Then I remembered that I only paid a dollar for this book. Really, should I put another several dollars into a binding? That seemed wasteful.
But how to punch holes in the spine? I know! My sister-in-law had a nice, sharp looking bead reamer (read: tiny awl) that might work. I dropped by her house to try banging it through the stack of pages. The dainty reamer was no match for my book: fail. (Note to self: I owe her a new reamer.) I headed home and kept noodling the problem. And then, in the midst of a pile of laundry, I had it! I ran to my hubby's drill bit kit, and sure enough, the smallest bit was the *perfect* size! So here's how I made it work:
Drill holes in spine as desired (I didn't pre-mark my holes, but you might want to if you're particular about even spacing and all that):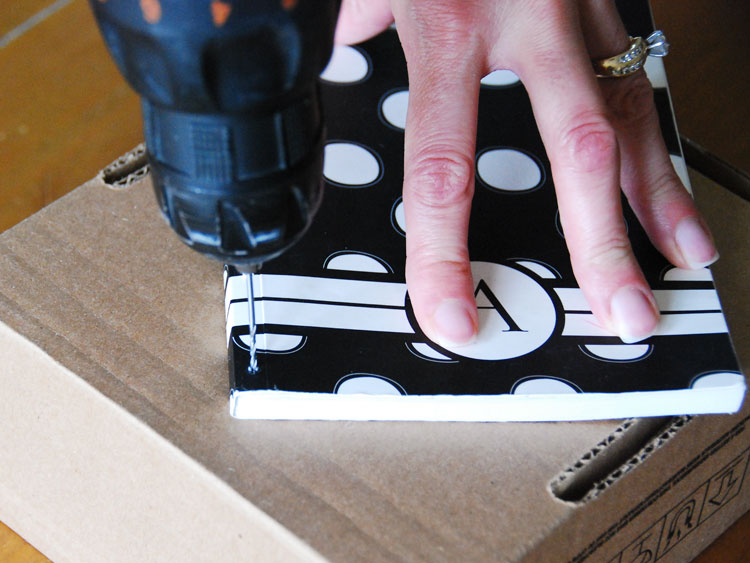 Thread a large needle with heavy thread, and sew that binding up: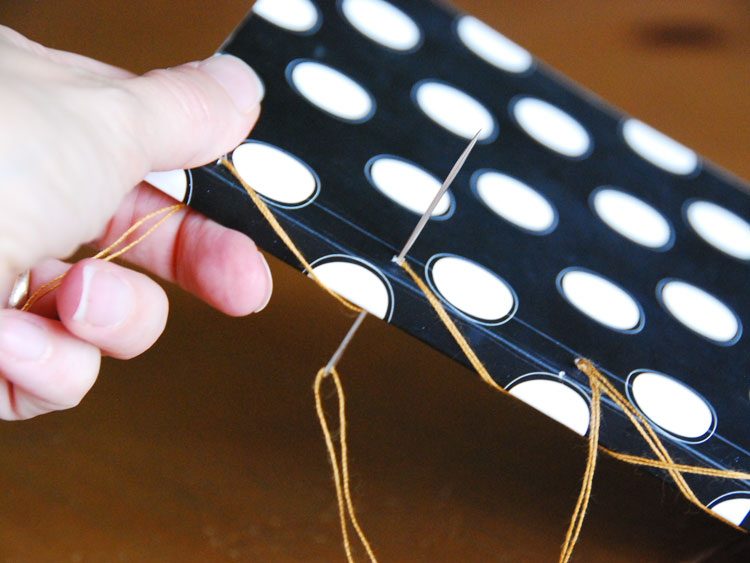 Voila! My notebook is now functional and cute to boot…no more lost pages!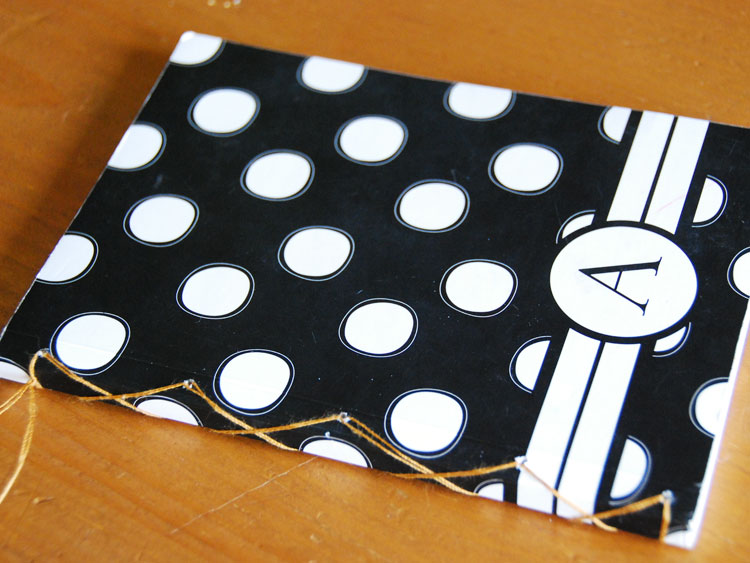 Do you have any make-it-work ideas? I want to hear/see them!