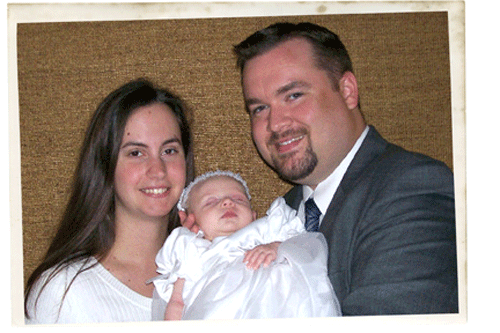 Oh, this darling family is so sweet! Baby Lily's mama, Kristi, took some time to share her thoughts with us:
"Last summer I ordered a blessing gown, your Clarice gown, for my daughter Lily. I spent several weeks looking for the perfect gown for her blessing day because this is a once in a lifetime experience and a very special day for our family! This is our first child, and I wanted a perfect dress for her. Ordinarily, I do not worry about things like this. In fact, it took me about five minutes to pick my own wedding dress! However, having a baby changed my life, and I love taking my time to make sure Lily has the best.
I finally decided on your Clarice gown. I shopped online at many places, but the decision did not get difficult until I narrowed it down between two at YOUR shop. I finally had to take a vote, and we decided on the Clarice.
We LOVE the little gown and we received so many compliments on it…Thank you so much for the beautiful gowns at your store and for giving us a special memory!"