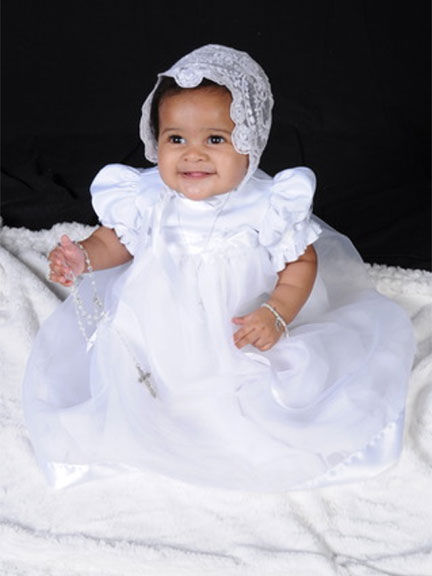 Precious Alannah Samantha in our Clarice Christening Gown: what a beautiful smile she has! Her mother, Samantha, shares:
"My mother…recently ordered from your website for my daughter Alannah Samantha's Christening. It was held at St. Nicholas of Tolentine Catholic Church in the Bronx, the same church my brother/my daughters Godfather, and myself were baptized at. The day was also special because it was her Godmother's Birthday. It was a beautiful family affair and I can't thank your company enough for helping us complete the day. Alannah looked like a precious angel!
Myself and my family would like to thank you for delivering a truly exceptional quality dress and accessories for such a memorable day!
Warmest Regards,
Samantha, Alannah Samantha, & Marcella (Very Proud Grandma)
Ps. We would like to send an extra special thank you to Jenny, for making sure everything arrived just in time!"