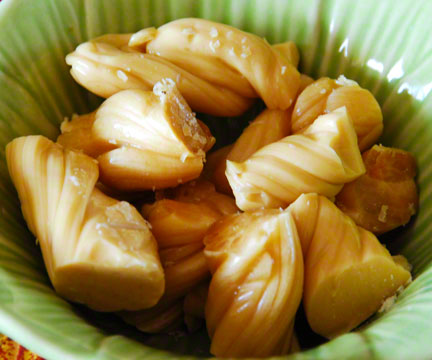 Last week, the kids & I stopped by the home of a lovely elderly couple in our neighborhood, with whom we enjoy visiting often. My favorite thing about our chats is when conversation turns to their childhood memories, and on this particular occasion, we listened to stories of Halloween in the late 1920s, and how children then looked forward to treats of cookies, apples, popcorn balls and honey candy.
I was sweetly surprised this week when my little man suggested we make honey candy to take over to our friends, so, we did! It's super easy–you can make it too:
Old-Fashioned Honey Candy
2 c. sugar
1/4 c. water
1 c. honey
1/4 t. soda
1 T. butter
Combine first three ingredients in pot and cook over medium heat to hard crack stage (294 degrees). Remove from heat immediately and stir in soda and butter.
Pour hot liquid into a buttered teflon pan (can use a cupcake pan for individual batches) and let sit until cool to the touch, about 10-15 minutes.
Spray hands with cooking spray and pull cooled candy until it turns white and hard.
p.s. Don't worry, your fingerprints will reappear in a few days. {wink}