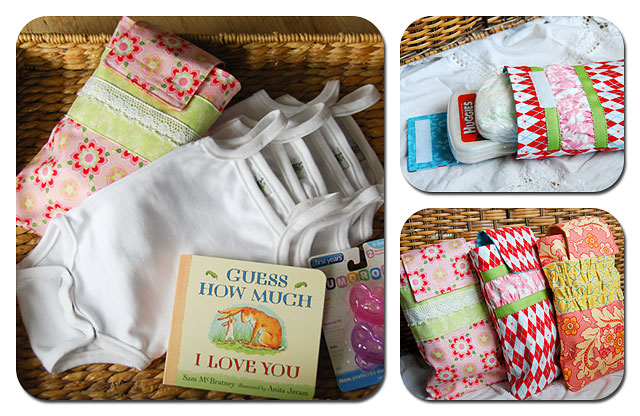 We have three baby girls due in the One Small Child family in the next few weeks, and it's been fun to watch our little mamas get ready to meet their much-anticipated daughters. With impending arrivals, of course we've had a baby shower or two!
I decided this was a perfect opportunity to share some of my favorite baby items with each of these girls, here's the low-down on what made my list:
-A size range of our Pima Cotton Camisole Bodysuits: I had these for my baby girl, and let me tell you, it was a sad day when they were all in the wash & we had to use a regular old onesie…an absolute baby essential item. (There's also a great sleeveless bodysuit option available for boys.)
-A hand-made bag for holding diapering essentials: such a nice thing to pack in your diaper bag, car, every room in the house…you really can't have too many of these to keep diapers and wipes together and on-hand for a quick diaper change. Also, these were quick and FUN to make.
–Guess How Much I Love You is hands-down one of my favorite children's books: I still read it to my 10, 8, and 6 year-olds!
-Soothie/Gumdrop pacifiers were  a must with my youngest.
Of course, there's a lot more that could have gone into these bags: when it comes to baby gifting, the options are blissfully endless…what is your favorite baby shower gift to give or receive?